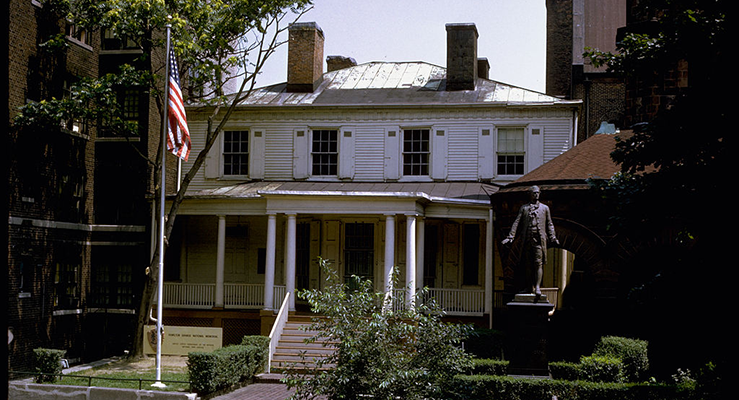 5 Amazing, Free Activities in NYC
New York City is many things: large, dynamic, exciting…and expensive. Planning a trip there, for any purpose, can result in a serious dent in your bank account and your enjoyment of the experience. For many of us, finding cheap, enjoyable activities during our trip means experiencing just as much of the city at a fraction of the price. It means getting to splurge on better transportation or make a reservation at that upscale restaurant you've been hearing about.
We love a free activity as much as the next person, so to help you plan a great (free) activity day in NYC, we've compiled some of our favorites below.
1. Hamilton Grange
For history buffs, the home of Founding Father Alexander Hamilton will present quite the experience. Stroll the grounds of the home, enjoy a guided tour of a historically renovated level inside the home, and get to know some of the professional tour guides. The history of Hamilton's family, as well as the circumstances of his role in US Government, his family life and his death, will all be revealed during your visit to this country home in upper Manhattan.
2. Staten Island Ferry
You don't have to pay a thing to take the 5-mile, 25-minute ride on the Staten Island Ferry, which generally functions as a commuter ferry for people traveling from Staten Island to Manhattan. Find a convenient hop-on spot and enjoy an expansive view of New York Harbor; it functions both as a romantic backdrop and an opportunity to get more familiar with just how much natural beauty can be found in the Empire State.
3. National Museum of the American Indian
This museum is housed inside the Alexander Hamilton U.S. Custom House, and offers a range of rotating and permanent exhibitions displaying the culture and lives of American Indians. From Native American ceramics and clothing to photographs, art and reflections on the histories of several tribes, you'll leave the museum with an expansive overview of the Native American experience, as well as increased knowledge about the tragedies which befell many tribes throughout American history.
4. The New York Public Library
Many visitors to the Big Apple aren't aware that they can take a free, guided tour of this iconic building. Mondays through Saturdays, you and your guests can enjoy a one-hour tour of the Stephen A. Schwarzman Building. If your group is larger than 10, you will need to schedule an advance appointment and will be charged a fee.
5. New York Botanical Garden
This is one of the most popular natural locations in all of the city; with a variety of breathtaking, rare flowers and plants, as well as knowledgeable staff on hand to inform you about the vegetation, experiencing the Botanical Garden is something many visitors to New York make special note of. They have over 300 varieties of daylilies on their Daylily Walk, a gorgeous conservatory and a native plant garden. You can get access to the grounds for free on Wednesdays and from 9-10 AM on Saturdays; this access, however, is limited only to the grounds and does not include the various special gardens on the property.
Your trip to New York City should be a joy from beginning to end; you don't have to sacrifice fun or education if you're trying to get by on a slim budget. There are plenty of free activities available to keep you entertained without putting a dent in your wallet. After all, in a city as large and dynamic as New York, there's always opportunity for experiences that don't cost a thing.
Photo by National Park Service Digital Image Archives [Public domain], via Wikimedia Commons.